International
Tables for
Crystallography
Volume F
Crystallography of biological macromolecules
Edited by M. G. Rossmann and E. Arnold



International Tables for Crystallography (2006). Vol. F, ch. 11.3, p. 219  


Section 11.3.2.4. Spot centroids and partiality
The intensity of a reflection can be completely recorded on one image, or distributed among several adjacent images. The fraction

of total intensity recorded on image j, the `partiality' of the reflection, can be derived from the distribution function

as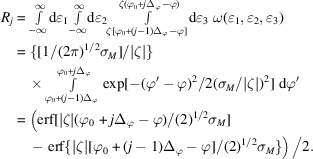 The integral is evaluated by using a numerical approximation of the error function, erf (Abramowitz & Stegun, 1972

).
While the spot centroids in the detector plane are usually good estimates for the detector position of the diffraction maximum, the angular centroid about the rotation axis,

can be a rather poor guess for the true ϕ angle of the maximum. Its accuracy depends strongly on the value of ϕ and the size of the oscillation range

relative to the mosaicity

of the crystal. For a reflection fully recorded on image j, the value

will always be obtained, which is correct only if ϕ accidentally happens to be close to the centre of the rotation range of the image. In contrast, the ϕ angle of a partial reflection recorded on images j and

is closely approximated by

. If many images contribute to the spot intensity,

is always an excellent approximation to the ideal angular position ϕ when the Laue equations are satisfied; in fact, in the limiting case of infinitely fine-sliced data, it can be shown that

.
Most refinement routines minimize the discrepancies between the predicted ϕ angles and their approximations obtained from the observed Z centroids, and must therefore carefully distinguish between fully and partially recorded reflections. This distinction is unnecessary, however, if observed Z centroids are compared with their analytic forms instead, because the sensitivity of the centroid positions to the diffraction parameters is correctly weighted in either case (see Section 11.3.2.8

).
Abramowitz, M. & Stegun, I. A. (1972). Handbook of mathematical functions. New York: Dover Publications.Google Scholar