International
Tables for
Crystallography
Volume F
Crystallography of biological macromolecules
Edited by M. G. Rossmann and E. Arnold



International Tables for Crystallography (2006). Vol. F. ch. 18.2, p. 380  


Figure 18.2.5.2 

aThe Howard Hughes Medical Institute, and Departments of Molecular and Cellular Physiology, Neurology and Neurological Sciences, and Stanford Synchrotron Radiation Laboratory, Stanford Universty, 1201 Welch Road, MSLS P210, Stanford, CA 94305-5489, USA,bThe Howard Hughes Medical Institute and Department of Molecular Biophysics and Biochemistry, Yale University, New Haven, CT 06511, USA, and cDepartment of Molecular Biophysics and Biochemistry, Yale University, New Haven, CT 06511, USA
Correspondence e-mail:  axel.brunger@stanford.edu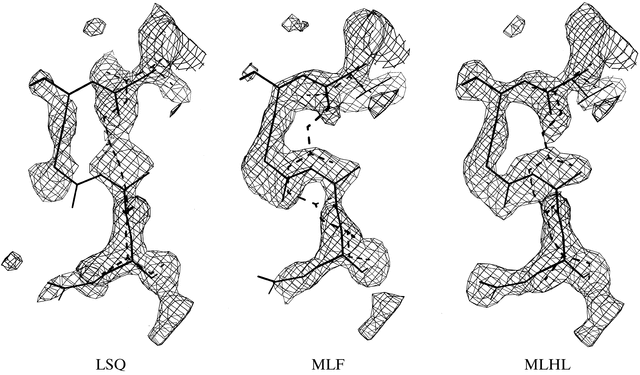 Figure 18.2.5.2
Maximum-likelihood targets significantly decrease model bias in simulated-annealing refinement.
-weighted electron-density maps contoured at 1.25σ for models from simulated-annealing refinement with different targets are shown. Residues 233 to 237 are shown for the published penicillopepsin crystal structure (Hsu et al., 1977

) as solid lines, and for the model with the lowest free R value from five independent refinements as dashed lines.